Tradie Upgrade Lift Kit
Thursday, 7 May 2020
Full kits from $1100 
The ute has become the modern-day work horse, carrying everything a tradie needs for an onsite job.
All these tools and equipment add extra weight to the rear, this can have a negative impact on the overall safety, comfort and control of the vehicle. Some of these symptoms include:
Light steering with the transfer of weight to the rear of vehicle
Harsh ride with the vehicle riding on the rear bump stops
Excessive body roll when cornering
Oversized trays & cargo boxes installed with overhang well past the rear shackle
Understanding these unique issues, the RAW 4×4 engineering team have designed an extra heavy-duty suspension kit based on Powerdown's unique 45mm bore truck shock technology to assist Australian tradies. The RAW 4×4 kits have been developed to
Carry a constant load at increased ride height
Reduce overall chassis stress and improve reliability
Increase the overall comfort of the vehicle with less bottoming out
More balanced vehicle across the front and rear corners
Improved ride, handling and Safety of the vehicle.
See the difference an upgrade can make to your vehicle; the images below show a fully loaded ute on the left fitted with standard suspension. On the right the same ute has been upgraded to RAW 4×4 tradie suspension. You can see in the images below that the rear leaf spring on the standard suspension has no positive camber. This restricts the bump travel and fully engages the load stage of the spring, causing a harsh and bumpy ride. The image on the right shows the vehicle with the RAW 4×4 tradie upgrade kit where the heavier leaf pack supports the weight much better. With increasing positive spring camber, the wheel bump travel is increased, providing much needed comfort.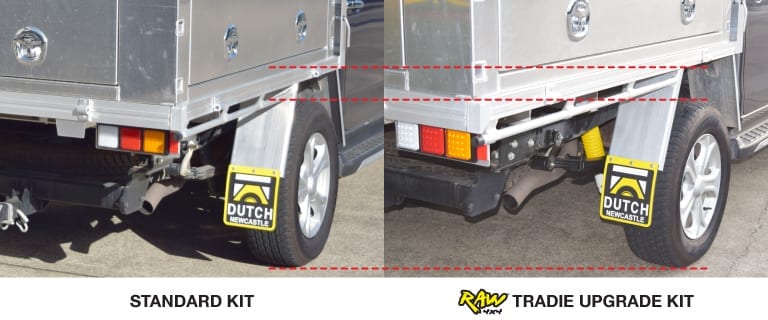 All RAW 4×4 tradie upgrade kits come complete with all the components needed to upgrade your vehicle:
Struts and shock absorbers
Leaf and coil springs
Polyurethane bushes
U-bolts and greaseable shackles